A lot of times when you leave your hometown you need to search for property on rent. Whenever you wish to start a new business you need a property again. So, when each situation you need the property then, isn't it better to take help of the apps.The following is the top ten best real estate apps at the Android Market website.
1.Zillow
Using Zillow you can browse for single family homes, condos, town homes and more all for sale in the U.S. Here you can buy almost every type of property as there is rental listing provided. You can also use the app to get pre-approved for a loan. Using the Android Wear support you can create notes for favorite homes and also get directions for open houses nearby. It provides you an access to using filters. You can filter search results by traits like number of beds, baths, pricing and find the property of your type in the easiest possible way.
2.Real Estate & Homes by Trulia
It is one of the top rated real estate app. This allows you to search nearby homes, apartments and houses to buy or rent in couple of minutes. The inbuilt GPS feature that the app possesses helps you to find best homes around your area or anywhere you like. It does not simply inform you about the place but makes you comfortable with home facts, details, pictures, real time notification. So whenever you feel that you are in a need of some property then should simply check the app at least once. You will surely get good results.
3.Relator App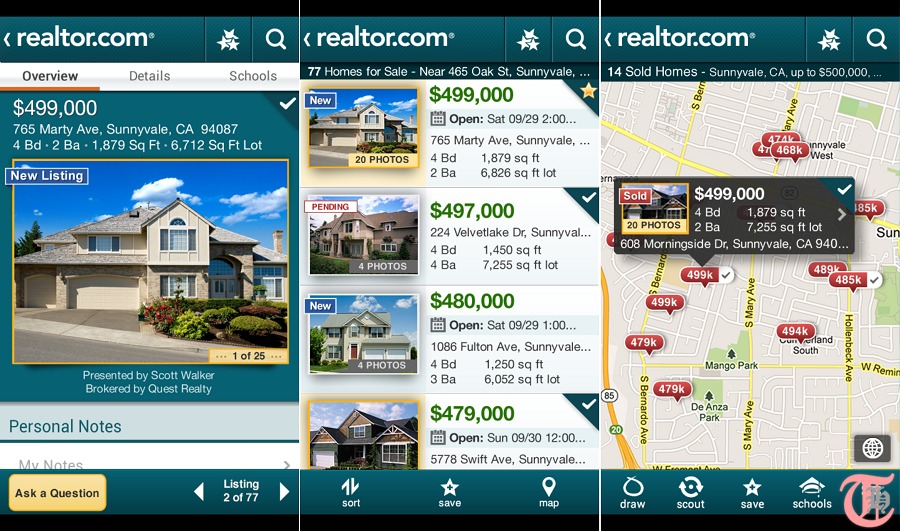 One place where you can find your next apartment is the Realtor.com. It can help with Apartment & Rental Home Search. It features daily updated listings, the ability to call or email the property straightaway using the app. You can use options to draw your own custom search area right on the map. The filters that the app provides help you to make your search all the more easy. So next time you have any such requirement use the app.
4.Century 21
When it comes to real estate then Century 21 is one of the most trusted names. You can trust with your eyes blind folded when it comes to dealing in properties using this app. If you are looking for homes or finding nearby open houses, then this app can help. Also you can find and contact a local agent or office.
5.Common Floor
Common Floor has been serving users since 2007 and is a popular website to find real estate property. It deals from various parts of India and the website offers a truly intuitive Android application that makes house hunting a very easy process. You can trust and rely on the results that Common Floor brings to the app. You can also search for the property by simply using the filters based on the amenties and other choice and preference patterns. This makes finding the property even the more convenient and fun.
6.Sulekha
It is one of the most common name that you might have heard when it comes to real estate. Not only does it provide you services related to property but also provides some other kinds of local services, including business listings, education listings etc. The app will not disappoint you because it offers superb set of filters, ability to sort listings according to your requirement, integrated options to contact the advertiser to anyone who decides to use the app for any sort of purpose.
7.India Property

In addition to what the other apps related to real estates have in store to offer you this app has one additional feature. This additional feature allows you to check out the 3D plan of property, have a virtual tour of it if available and do a lot more to understand the deal in many aspects. What else can you expect sitting at home and searching for the property.
8.MagicBricks Property Search

MagicBricks.com is another in the list to know about the available real estate property listings in a particular area, city or a region and its application for Android Smart phones. It is worth praising as far as you are concerned about its ability to find suitable real estate listings that too as per your requirements. Not only does it allow you accessing the database but the app also lets you post real estate listing deals from the main screen itself and you will not have any kind of problem in doing so. Some of the worth noting features of MagicBricks for Android are inclusive of presence of sense-making filters like price, number of bedrooms etc. Other options are ability to create property alerts, integrated options to contact the advertiser. These options will help you to evaluate the property.
9.99acres Real Estate App
99acres for Android is a great help to find the required accommodation that too in a very little time. You can select the desired category whether residential or commercial and the purpose. You will be able to input your requirement including property type, number of bedrooms, etc. you can find the required type of property within the fraction of seconds. All in all, this app can be given a five-star rating for 99acres for Android.
10.Home snap Real Estate Here in this app, Homesnap, you can just take a photo and upload there for other buyers. You can easily find homes and property which you can buy with their exact price listed there. It is easy to use, both for the buyer as well as those who are giving the add to rent out or sale their property.
All in all, the above mentioned apps will come to your rescue whenever you need a property. There should be at least one of these apps on your phone. You simply need to visit the play store and download the app free of cost, which ever you find most suitable. You need to do so today.